WASTE TO ENERGY – THERMAL TREATMENT OF RDF (REFUSE DERIVED FUEL) CALORIFIC VALUE INTO ELECTRIC AND THERMAL ENERGY.
The presented technology enables waste processing in the process of pyrolysis and gasification in conditions of limited oxygen access. It is applied to the municipal waste treatment in the form of alternative RDF fuel, waste from the plastics industry, or biomass and other types of waste for energy products: gas, pyrolysis oil and char. The products obtained are energy carriers and can be used at a later stage of technology.
Depending on local needs, the products of the process may be used as fuel in combustion engine, boiler or other energy unit, or as recovered chemical products suitable for refining solid, gas and even liquid fuels for use in transport or other areas of the economy (biofuels).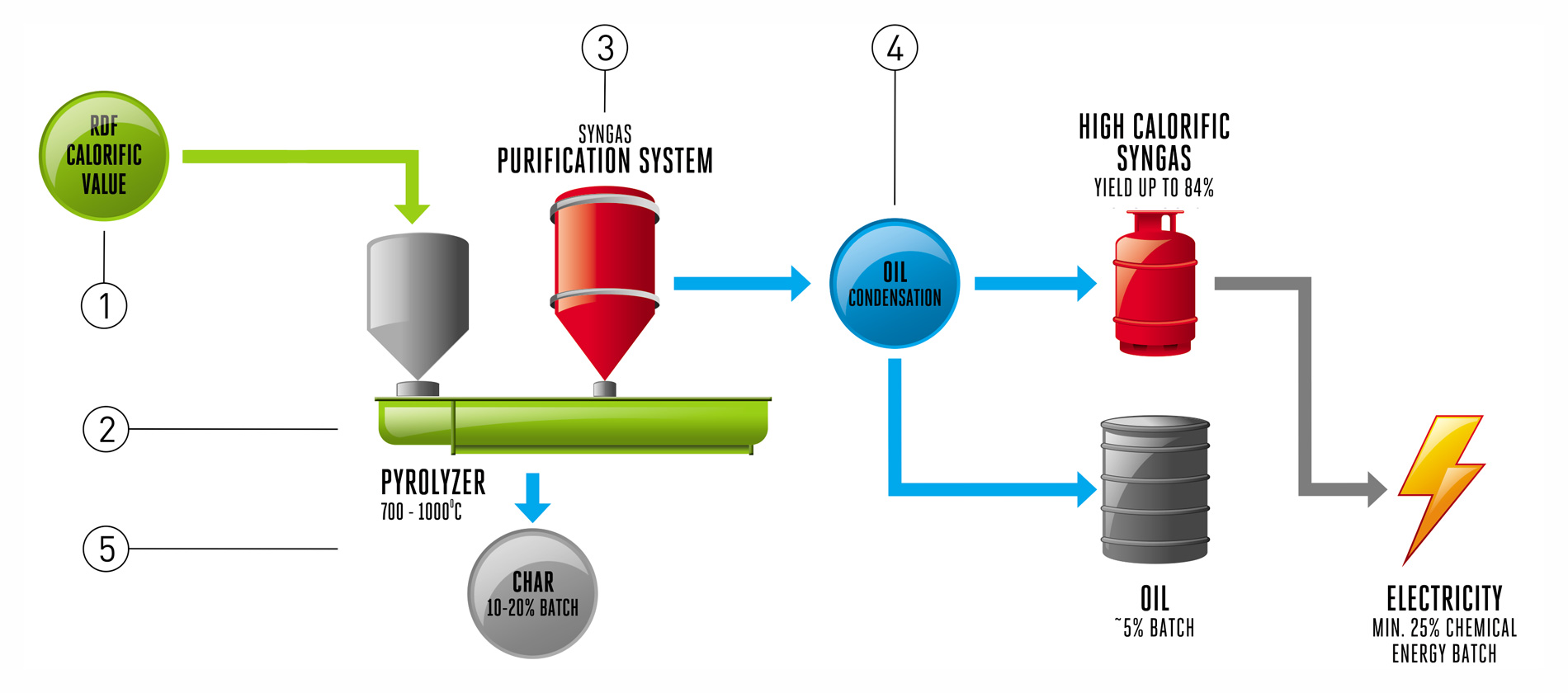 HOW DOES IT WORK?
Material preparation and pre-treatment. Municipal waste is initially crushed and separated to obtain a RDF overflow fraction. Then the material is subdivided into the appropriate size fraction and subjected to a granulation process.
The prepared material is subjected to a thermal process under anaerobic conditions – pyrolysis. Raw material with a moisture content not exceeding 15% is introduced by a screw conveyor into the pyrolysis zone. The size of the particles and the moisture content of the feed affect the yield of carbonis, liquid fraction (oil) and gas. The dosing system introduces the raw material into the reactor chamber with a patented screw conveyor with the possibility of supplying thermal energy. This system allows for perfect control and monitoring of residence time (5-30 minutes) and temperature during the process (700 – 1000⁰C).
The gas produced in the process is heat-treated using dedicated sorbents.
The liquid fraction in the condenser with the refrigerant is then precipitated. The liquid phase is a mixture of hydrocarbons and water, and their ratio depends on the initial humidity of the charge.
The char from the pyrolysis chamber is quickly cooled in a water-cooled screw conveyor. The char is cooled to a temperature not exceeding 50⁰C.